1 x LP Red Vinyl
British new wave band JoBoxers' debut album 'Like Gangbusters' was originally released in 1983. The album was produced by Alan Shacklock and contains hit singles "Boxerbeat", "Johnny Friendly" and the double-A-side "Jealous Love / She's Got Sex". It also includes "Just Got Lucky" – the band's huge international hit that reached the top 10 in the UK and top 40 in the U.S.
This 40th Anniversary Edition reissue is sourced from the original ¼' master tapes, pressed on red vinyl and is a 2023 Record Store Day Exclusive!
JoBoxers "Like Gangbusters" is a must-have record for every 80s new wave music fan.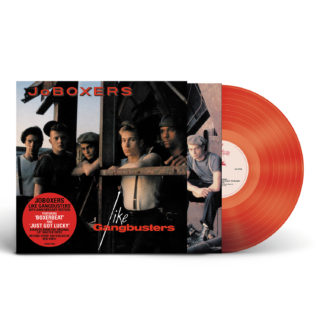 Tracklist: (Original tracklist via Discogs):
A1. Boxerbeat
A2. Crosstown Walk Up
A3. Fully Booked
A4. Not My Night
A5. Just Got Lucky
B1. She's Got Sex
B2. Curious George
B3. Hide Nor Hair
B4. Crime Of Passion
B5. Johnny Friendly