1 x LP 180Gr. Solid White Vinyl
First pressing on vinyl, solid white LP, Fans keep asking for the mixtape on vinyl!
froge.mp3 is piri & tommy's debut project. An affecting, playful and eclectic body of work, it not only soundtracks their remarkable journey thus far, it's also a vivid snapshot of British pop and youth culture right now in all its excitement, uncertainty and euphoria. Channelling universal sounds and stories as they've evolved, in real-time, over the pandemic, their first project also finds piri & tommy at the front of a thrilling new wave in UK pop music. Lyrically exploring everything from that awkward crush ('soft spot') to that first summer of freedom ('on & on'), as well as that transition into something more more meaningful ('words'), froge.mp3 is the no-filter story of piri & tommy so far.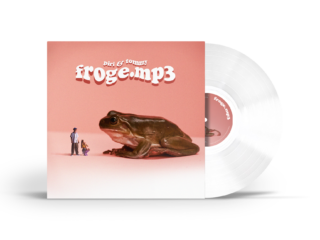 Tracklist:
1 Silver Lining 2:34
2 On & On 2:15
3 Soft Spot 3:43
4 Settle 2:42
5 Words 3:10
6 Slowly But Surely 3:06
7 Say It 2:58
8 Can We 2:36
9 Easy 3:08
10 Player 2 3:00
11 Beachin 3:15
12 Sunlight 3:14