2 x LP 140g neon purple vinyl
Demon Records is proud to present the 30th anniversary edition of Juno Reactors' debut album 'Transmissions'. First released in 1993 on NovaMute Records (a sublabel of the legendary Mute label), the album is regarded as one of the very first trance albums.
Juno Reactor rank amongst the all-time greats of electronic music as essential innovators and boundary pushers. Along with nine studio albums, Juno Reactor were also behind the iconic scores featured in the beloved Matrix Trilogy.
To this day, Juno Reactor have a worldwide cult following and regularly perform stunning live shows at major festivals including Glastonbury, Roskilde, Fuji Rock, The Glade, Boomtown, Ozora, and many more.
Reissued on vinyl for the first time, the album is housed in a gatefold sleeve and pressed on two 140g neon purple vinyl and has been assembled with the assistance of Juno Reactor's Ben Watkins.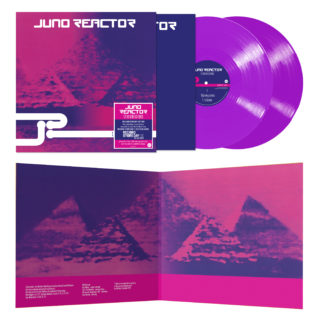 Tracklist:
SIDE A
1. HIGH ENERGY PROTONS
2. THE HEAVENS
SIDE B
3. LUNA-TIC
4. CONTACT
SIDE C
5. ACID MOON
6. 10,000 MILES
SIDE D
7. LAUGHING GAS
8. MAN TO RAY