1 x LP
Popularly regarded as one of the most important and groundbreaking British albums of all time, 1979's 'Cut', by The Slits has, rightly, seen several reissues on the LP format over the years. Its stature as a classic seems to have only grown since its initial impact and its influence on what came after remains incalculable – from Riot Grrrl to Culture Club, from Massive Attack and Tricky to Hole and Nirvana (Kurt Cobain cited 'Typical Girls' as one of his favourite recordings ever) it's impossible to underestimate its influence on leftfield outsider musicians to this day.
For Record Store Day 2023 it's a first outing on vinyl for pioneering producer Dennis Bovell's 'Rough Mixes'* of the album, previously unearthed as part of the research for 2009's anniversary CD Deluxe Edition of the album. As a standalone vinyl piece 'Rough Cut', then, presents an entire alternative version of 'Cut', plus the addition of the band's startling cover of 'I Heard It Through The Grapevine'. It also shines a light on Bovell's superb initial mixes which pack a raw power and punch to rival the final, finessed versions ultimately released as 'Cut'. Arguably, these mixes could have ended up being the "official" versions and 'Cut' would still be able to claim its place alongside PiL's 'Metal Box', and Joy Division's 'Unknown Pleasures' as 1979's most groundbreaking albums. What they demonstrate are a band and their producer pouring myriad musical influences in search of an entirely new musical language.
For this incarnation of 'Cut' Slits guitarist Viv Albertine advised on a new alternate treatment for the sleeve and, for the inner bang's sleeve notes, has donated a new Q&A essay reflecting on the album's recording, The Slits' uncompromising musical ethos, and their place in history as post-punk's premiere female musical revolutionaries. 'Rough Cut' makes for both a fascinating listen and a fascinating read.
*Note: as no Rough Mix of 'Spend, Spend, Spend' exists in the Island Records archive, 'Rough Cut' instead places the band's original 8-track demo instead.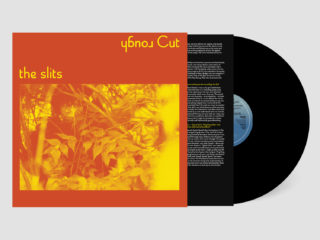 Tracklist:
Side A
A1. Instant Hit (Rough Mix) 02:44
A2. So Tough (Rough Mix) 02:41
A2. Spend, Spend, Spend (8-Track Demo) 03:29
A3. Shoplifting (Rough Mix) 01:40
A4. F.M. (Rough Mix) 03:54
A5. I Heard It Through The Grapevine (Rough Mix) 03:47
Side B
B1. Newtown (Rough Mix) 04:32
B2. Ping Pong Affair (Rough Mix) 04:41
B3. Love Und Romance (Rough Mix) 02:29
B4. Typical Girls (Rough Mix) 04:18
B5. Adventures Close To Home (Rough Mix) 03:28