2 x LP Amber Vinyl
Cassette tapes. Remember those? Those things with the dual spools and loads of wide brown plastic recording string that'd occasionally unravel and hang out of the shell, requiring a pencil and firm wrist to spin back into place?
Yeah, well, once upon a time, old-school sound systems contained cassette decks for the express purpose of recording shows, and these "cassette" things were a standard part of every tour. Motörhead were certainly no exception, recording show after show. They contain gold, pure aural gold, and had for many years sat in storage. There were loads of them gathered, with the likes of Lyon, Liverpool, Hamburg and Chippenham (!!) scrawled in biro on the tiny labels alongside a date…and thus we are delighted to announce that this unique collection of live gems will now be heard by the world, via carefully digitized transfers, in this series titled The Löst Tapes.
Volume four has been hand-picked by the increasingly deaf, but well-meaning Motörhead team, and sees the then quartet play a monstrous live set from the 'No Remorse' album tour, recorded at Sporthalle, Heilbronn, Germany on 29th December 1984.
* Vinyl image shown is for mock-up purposes only. Actual vinyl colour/shade may look different once pressed.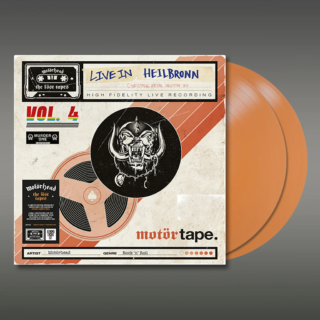 Tracklist:
Side A
Iron Fist
Stay Clean
Heart of Stone
The Hammer
Metropolis
Side B
Shoot You in the Back
Jailbait
Killed By Death
Ace of Spades
Side C
Steal Your Face
Nothing Up My Sleeve
Road Crew Introduction
(We Are) The Road Crew
Bite the Bullet
The Chase Is Better Than the
Catch
Side D
No Class
Motörhead
Bomber
Overkill