2x LP W/ Updated Artwork
From the fuzziest west coast psyche to lilting acoustic work by way of beatlesy power pop and some gorgeous organ flurries, 'hit squad' contains some of the frond's most realised songs. from the faux-60s spy-film styles of the title track, the all-out rock of 'dragons' and 'doing nothing', the classic psych-rock of 'through the hedge', to the epic psychedelic melancholy of 'fast falls the eventide'. 'hit squad' has saloman playing to his strengths, but not resting on his laurels." allmusic. a magnificent uplifting collection of tales about every man's trials and tribulations mixed with escapist visions and beautiful pop songs; the evocative 'high point' is worth the entry fee alone.
Available for the first time on vinyl, with updated artwork from band leader nick saloman.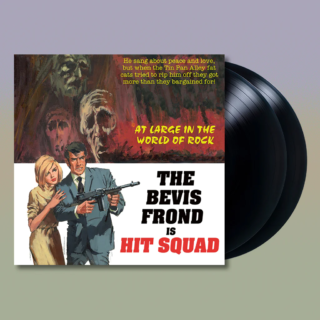 Tracklist:
1 All Set?
2 Dragons
3 Through The Hedge
4 I Feel Bad About You
5 Hit Squad
6 Alpha Waves
7 Way Back When
8 Mission Completed
9 Flood Warning
10 Your Little Point
11 Crumbs
12 Doing Nothing
13 High Point
14 It's A Gut Thing
15 No Attempt
16 Your Secret Doors
17 Am I Burning?
18 Fast Falls Eventide