1 x 12″ White Vinyl w/ Printed Disco Bag
Formed in Glasgow in 1979, Altered Images and their iconic frontwoman Clare Grogan were one of the brightest bands who emerged from the new wave scene of the early 1980's. After being championed by Radio 1 DJ John Peel and supporting Siouxsie and the Banshees on their 1980 Kaleidoscope tour, they were soon signed to CBS and went on to have four top-20 singles.
Available on vinyl for the very first time as a Limited Edition 12" white vinyl featuring reimagined 2022 recordings of four classic hits. The EP includes Happy Birthday, Don't Talk To Me About Love, See Those Eyes & I Could Be Happy.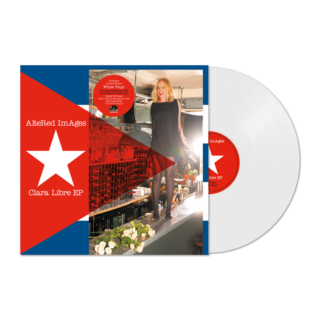 Tracklist:
SIDE A
1 HAPPY BIRTHDAY (CUBAN VERSION)
2 DON'T TALK TO ME ABOUT LOVE (CUBAN VERSION)
SIDE B
1 SEE THOSE EYES (CUBAN VERSION)
2 I COULD BE HAPPY (CUBAN VERSION)