1 x LP Pink & Blue Swirl Vinyl
Following the release of Duran Duran's smash hit album "RIO," a selection of Night Versions and Remixes were released on the "CARNIVAL EP" to capitalize on increased radio and night-club play at the time. The original CARNIVAL EP's were the key to unlocking Duran Duran's international success at the time and each tracklisting differed around the world. For the 40th Anniversary year of 'RIO' this LP collects together all of the RIO Night Versions and Carnival Remixes into one collection for the first time exclusively for RSD 2023.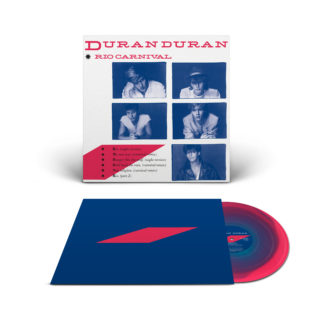 Tracklist:
SIDE A –
1. Rio (Night Version) (6:39),
2. My Own Way (Night Version) (6:34),
3. Hungry Like The Wolf (Night Version) (5:14) //
SIDE B –
1. Hold Back The Rain (Carnival Remix) (7:00),
2. New Religion (Carnival Remix) (5:13),
3. Rio (Part 2) (5:28).