In de 8 jaar dat ABBA bestond (1973-1981) maakten zij 8 albums. Het viertal wist zich, in deze periode, te ontwikkelen tot één van de grootste popgroepen aller tijden. Ze domineerden de hitlijsten in de jaren 70 en de vroege jaren 80 en herdefinieerde de grenzen van de popmuziek. Elk album bracht hun verbazingwekkende artistieke vooruitgang in kaart.
Tientallen jaren na hun laatste release, The Visitors uit 1981, inspireerde hun muziek vele muzikanten na hen, zorgde voor één van de meest succesvolle musicals ooit, 2 films en thema-restaurants. In Stockholm ontving het ABBA-museum record aantallen bezoekers.
ABBA: The Studio Albums verzamelt, voor het eerst op gekleurd vinyl, alle releases: Ring, Ring uit 1973 (rood vinyl), Waterloo uit 1974 (oranje vinyl), ABBA uit 1975 (zilver vinyl), Arrival uit 1976 (wit vinyl), The Album uit 1977 (groen vinyl), Voulez-Vous uit 1979 (blauw vinyl), Super Trouper uit 1980 (goud kleurig vinyl) en The Visitors uit 1981 (geel vinyl). Bij elkaar vormen zij een wonderbaarlijk creatieve output in de geschiedenis van de moderne popmuziek.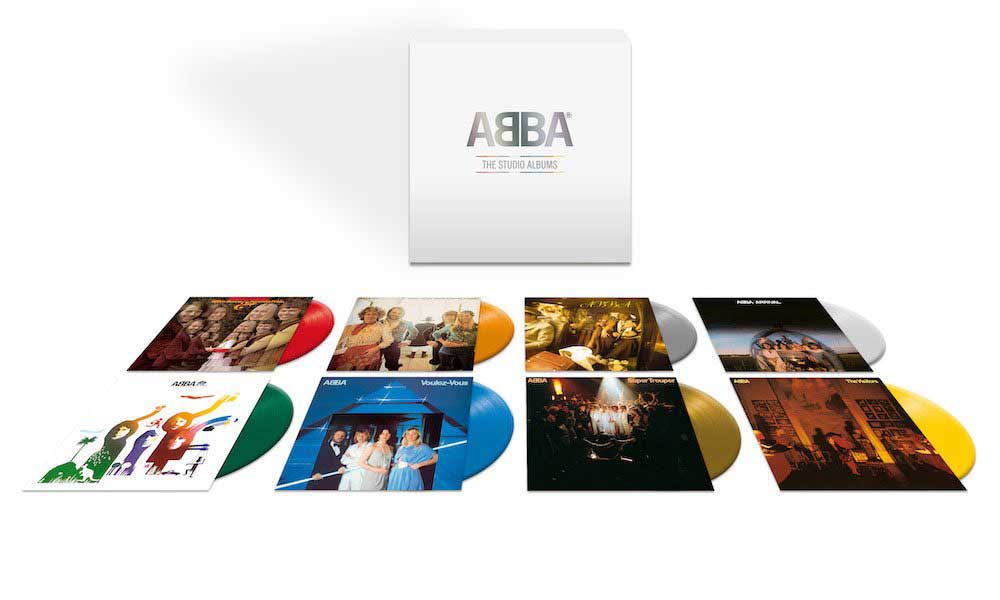 Ring Ring (1973; red vinyl)
The group's debut album reached No. 2 in Sweden and was a top ten success in Australia and Norway. It featured their local No. 1 title track smash and set the bar high for their global achievements to come.
Waterloo (1974; orange vinyl)
Released in the year of their sensational victory at the 1974 Eurovision Song Contest, and titled after the song that made them global stars. The parent album also included another early signature, 'Honey, Honey,' later featured in the Mamma Mia! musical.
ABBA (1975; silver vinyl)
The group's self-titled third album raised the stakes with its massive hits 'SOS' and 'Mamma Mia,' as well as 'I Do, I Do, I Do, I Do, I Do,' a chart-topper in Australia and New Zealand. ABBA's expanding horizons now acknowledged classical music ('Intermezzo No.1 (Instrumental)') and reggae ('Tropical Loveland') as they became the most prolific and inventive hit machine of the 1970s.
Arrival (1976; white vinyl)
Full of indelible hits and a sophisticated album in its own right, Arrival included the quartet's first US No. 1, the deathless 'Dancing Queen,' alongside the further classics 'Money, Money, Money' and 'Knowing Me, Knowing You.' It topped the charts across Europe, Australasia and far beyond, and is rightly recognised as one of the great pop LPs of any era.
ABBA: The Album (1977; green vinyl)
A signpost to Benny Andersson and Björn Ulvaeus' later focus on stage musicals, this set was another reflection of ABBA's refusal to rest on their laurels, mixing theatrical and pop sensibilities. Released concurrently with ABBA: The Movie, it included the worldwide hits 'Take A Chance On Me' and 'The Name Of The Game' as well as the much-loved 'Thank You For The Music.'
Voulez-Vous (1979; blue vinyl)
ABBA's final album of the 1970s was the first to be recorded at Polar Studios in Stockholm. It housed no fewer than five hit singles ('Chiquitita,' 'Does Your Mother Know,' 'Angeleyes,' 'Voulez-Vous' and 'I Have A Dream') and went platinum or double platinum in numerous countries.
Super Trouper (1980; gold vinyl)
Another global chart-topper for a new decade, Super Trouper offered further smash hits in the Europop-defining title track and the heart-rending 'The Winner Takes It All.' It also featured the group's superior embrace of disco on 'Lay All Your Love On Me' and the anthemic 'Happy New Year.'
The Visitors (1981; yellow vinyl)
ABBA's final album to date saw them reaching new levels of maturity, as they displayed their unique sonic bond on songs like 'One Of Us' and 'When All Is Said And Done,' and expanded it with the atmospheric title track and others. As ever, it topped numerous charts and left ABBA's immense global fan base always wanting more.